One of the Valletta 2018 projects met with great enthusiasm is the Valletta Green Festival – a weekend-long event which transforms one of the largest open spaces in Valletta, Pjazza San Ġorġ with a huge floral carpet of some 80,000 potted plants. This year's Valletta Green Festival will take place from the 6th to the 8th May 2016 and will be held every spring, with the intention of growing further over the coming years.
A main attraction this year will be the secret gardens at the Archbishop's Palace and the cloistered monastery of St Catherine, which will this year be open to the public for the first time in 400 years.
The past two editions of the Valletta Green Festival saw Pjazza San Ġorġ filled with flowers with a massive floral installation of 400 square metres. The infioriata is created from seasonal flowers, packed tightly together, resulting in a colourful mixture of whites, pinks, purples, yellows and reds.
The aim of the infioriata is to inspire residents to start developing green areas in their own towns and villages. Roof gardens, for example, are easy to set up, and not only make urban landscape more visually attractive, but they also lower temperatures in the hot summer months.
The project is a Valletta 2018 collaboration with the Ministry for Sustainable Development, The Environment and Climate Change; the Environmental Landscaping Consortium; the Parks Department, as part of the Tree 4 U (34U) campaign; and WasteServ Malta Ltd.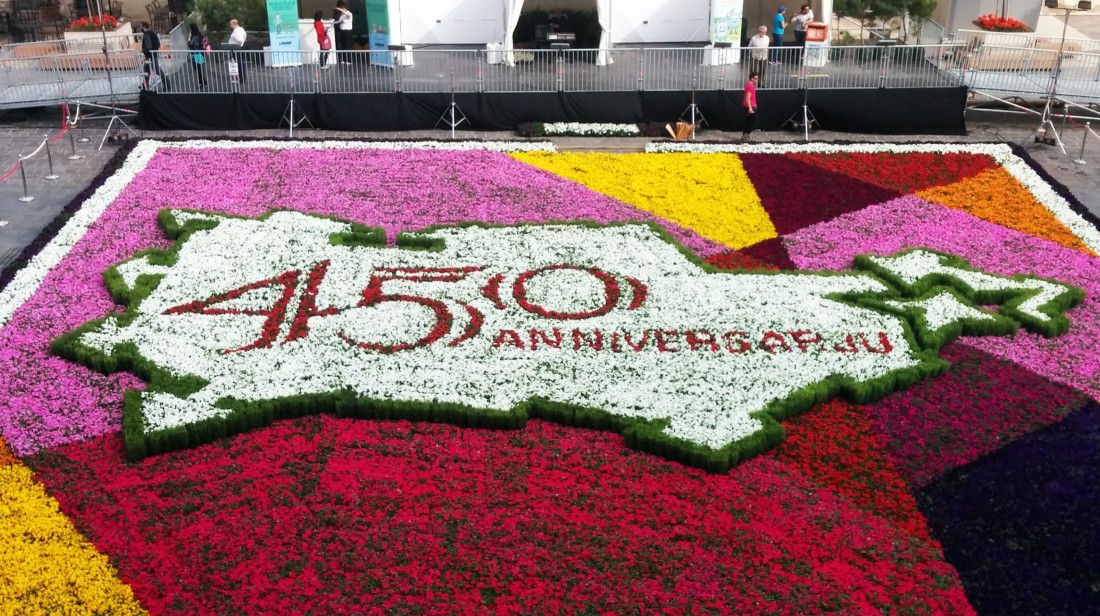 Programme of events:
Green Roof
Date: Thursday 3rd May – Sunday 6th May
Time: 9am onwards
Location: Roof of the Main Guard, St George's Square, Valletta
Description: In Malta, buildings cover one third of the Island, leaving greenery in the dirt track. Green roofs are one way to bring plants back to urban areas with loads of benefits. A green roof will be exhibited on the roof of the Office of the Attorney General to raise awareness and educate the public about the importance of greenery, and how they can implement green initiatives within their homes.
St George's Square
Date: Thursday 3rd May – Sunday 6th May
Time: 9.30am onwards
Location: St George's Square, Valletta
Description: Exhibition tents by various NGOs including China Cultural Centre in Malta, ELC, Garby & Tidy and WasteServ. Flower carpet made of flower pots covering an area of more than 1000sqm.
The Basilica of St Dominic & Garden
Date: Friday 4th May – Sunday 6th May
Time: 9.30am – 12.30 pm and 4pm – 7pm
Location: St Dominic Street, Valletta
Description: The gardens and refectory of the Basilica of St Dominic will be open to the public
St Augustine's Church & Garden
Date: Friday 4th May – Sunday 6th May
Time: 9.30am – 12.30 pm and 4pm – 7pm
Location: Old Bakery Street, Valletta (Entrance from Old Bakery Street or Zekka Street)
Description: St Augustine's church, gardens, and the recently discovered foundations of the church will be open to the public
St Catherine's Monastery & Garden
Date: Friday 4th May – Sunday 6th May
Time: 9.30am – 12.30 pm and 4pm – 7pm
Location: Republic Street, Valletta
Description: The gardens of St Catherine's Monastery will be open to the public
Archbishop's Palace & Garden
Date: Friday 4th May – Sunday 6th May
Time: 9.30am – 12.30 pm and 4pm – 7pm
Location: Archbishop Street, Valletta
Description: The Archbishop's Palace Gardens, Piano Nobile and ground floor will be open to the public