The Valletta 2018 Foundation is driving cultural, social and economic regeneration in Valletta and the Maltese Islands through collaboration, exchange and innovative practice.
The Valletta 2018 Foundation is responsible for the European Capital of Culture programme in Malta. The programme consists of events and projects developed with various local and international communities. It is being developed organically in preparation for the year 2018.
The Valletta 2018 Foundation is responsible for Valletta's journey towards the title of the European Capital of Culture in Malta in 2018.  The Foundation was responsible for the bidding process starting with the pre-selection phase in January 2012, the final selection in October 2012 and the official declaration by the Council of Ministers in May 2013.  The implementation of Valletta's project for 2018 lies within the Foundation's remit.
The Valletta 2018 Foundation provides a framework to the evolution of Valletta 2018. It has strong support from a range of important stakeholders and a sound, transparent governance structure: both aspects are essential to seeing Valletta 2018 become a successful and sustainable reality.
What is Valletta 2018?
 VALLETTA 2018: AN ISLAND-WIDE FESTA
WHEN YOU LIVE ON AN ISLAND, THE HORIZON ALWAYS HOLDS THE PROMISE OF NEW AND EXCITING CONNECTIONS TO BE MADE, WHILE THE SHORE DRAWS YOU BACK HOME TO A WEALTH OF DETAIL THAT'S JUST WAITING TO BE EXPLORED.
Malta and Gozo can be likened to tiny but vibrant stages packed with drama, excess and exuberance constantly playing out in close quarters, amid tight-knit communities; all the while, these small island scenarios have co-existed with the comings and goings afforded by our harbours, and today they walk alongside ever-growing international connections.
The strategic geography of the Maltese Islands – which places them right between Europe and Africa – thus puts our communities in a unique position to host such a diverse cultural celebration as the European Capital of Culture. And our Mediterranean style is another valuable feature of the islands' identity, capable of reaching out to the varied and valuable perspectives that surround it.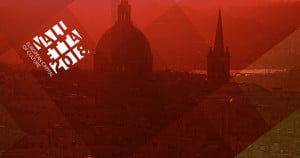 Book with us your self-catering Holiday Apartment.
Morina Self-Catering Holiday Penthouse. On the SeaFront of ST'Julian's.
This is a lovely one bedroom penthouse apartment that is located right on the seafront and on the lovely promenade of St Julians Bay. The penthouse has a large outside terrace right next to the bedroom and another large terrace with spectacular seaviews of Spinola Bay. This terrace has also garden furniture and bbq.