Proud to have obtained the Airbnb Superhost Award again!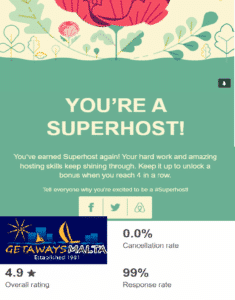 Proud to have received the Superhost Badge today! This means that our ratings in over 80 properties we feature on airbnb have received a consistent Overall Rating of 4.9* out of 5*!  Our main goal and company policy are always:
–  to ensure that we provide a clean and safe environment for our guests.
– guests can reach out to us for assistance at any point during their stay.
– we ensure that our guests make nice memories and have a fabulous experience when they are in Malta.
There's a couple of requirements in order to qualify for a Superhost:
Experience: Superhosts confirm at least 10 bookings in a year.
High Response Rate: Superhosts respond to guests quickly and maintain a 90% response rate or higher.  We have 99% response rate.
5-Star Reviews: Superhosts provide listings that inspire enthusiastic reviews. At least 80% of their reviews need to be 5 stars.
Commitment: Superhosts honor confirmed guest reservations.