First-Of-Its-Kind Exhibition Mixing Writing And Art Coming To Valletta
From social media to life mantras, we're constantly bombarded with aphorisms. Brief, disconnected and at times philosophical sentences, aphorisms have been used time and time again as motivational quotes and inspirational tag lines to Instagram uploads – What you fear overtakes you, There's no time like the present, and so on.
What we've never seen, however, is what happens when multiple artists work with different writers on interpreting – and reinterpreting – these aphoristic texts. The result is as dynamic as it is fascinating, and it'll be happening, for the first time ever, in Malta.
Put quite simply, four different artists were given a series of aphoristic texts. These artists had to in turn translate them into an artwork, while each being assigned four different collaborators. The entire group of eight creatives were faced with an intriguing set of questions:
"What happens when an artist engages with an aphoristic text? What if the artist were paired up with a collaborating writer who has the task of documenting the artist's work which responds to the same aphoristic text?"
Attempting to present an answer to these questions will be artists Cyprus' Klitsa Antoniou, England's Stuart Franklin, and Malta's own Vince Briffa and Trevor Borg. These will in turn be collaborating with Italy's Irene Biolchini and Sara Dolfi Agostini, along with the Maltese Clive Zammit and Niki Young. This last group will be following the artists through their creative process, sharing ideas with them and documenting the entire process.
"Basically, this process was entirely experimental," Niki Young told Lovin Malta. "We did not know in advance what would come out of the collaboration. The artists were selected according to their specific media and international experience."
In fact, met(afourisms) is not just about writing and painting. The exhibition also includes sculpture, photography, installation, video and sound.
BOOK Your Holiday Self Catering Apartment Now.
Blu Waters Penthouse apartment – Sliema Malta
Lovely 2 bedroom penthouse located just 250 m from Sliema Seafront. This penthouse is very sunny and it's street is a quiet residential street.  10 minutes on foot from St Julian's and Paceville.
Wifi internet and TV are included and free of charge.
Fast and unlimited WiFi internet, digital TV (few English and Italian channels available – upgradable),
Well equipped kitchen including Electric oven, microwave, toaster, Percolator, 4 hobs, fridge freezer,etc.
Hair Dryer, iron and iron board and Washing machine.
Cots, highchairs, DVD player, Coffee Machine are available on request.
Fans are provided in each room.  A big gas heater is also provided in Winter.
Apartment has aircondition units (in some rooms)
Towels and bed sheets are provided.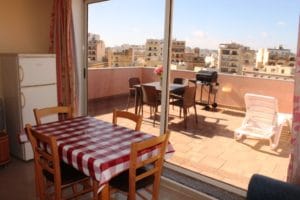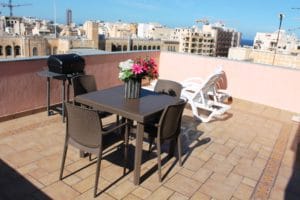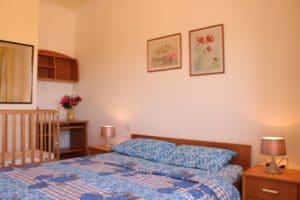 Neville & Ruth Galea
Ruth bookings Tel + WhatsApp:  00356 9906 2977
Tel:  00356 9948 6175
Website: http://www.getawaysmalta.com
Like our Facebook page: https://www.facebook.com/getawaysmalta