Deal of the Week for August 2020 Holidays!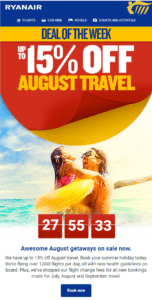 Make nice memories for Summer 2020…book your Summer holiday with family or friends with us on www.getawaysmalta.com.  We have a wide selection of fully furnished and fully air conditioned holiday apartments for you to choose from.
Contact us now on [email protected] or what s app +35699062977.
https://mirror1.ryanair.com/nl/jsp/m.jsp?c=%402DtCj%2F1vvFbG97pMa4SStMuDYzp7jlSpWSpMLUJdvm4%3D&utm_source=crm&utm_medium=email&utm_campaign=email_R_FLIGHTTACT_FS210720_en_noseg_noab_nodiv_nop_nols