Malta – Best Places to visit in 7 days – The best 7 day holiday Plan covering Malta, Gozo and Comino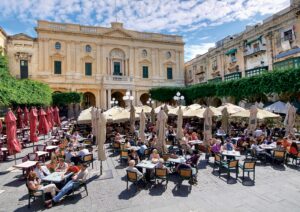 Upon our guests` arrival, we are often asked to give some tips of the best places to visit in Malta. Most bookings are of 7 nights and so we have compiled the "Malta Best Places to visit in 7 days"  holiday plan for visiting Malta, Gozo and Comino.
Thus here is your ultimate guide to Malta:
The list covers Malta, Gozo and Comino.
🌞 Day 1. GOZO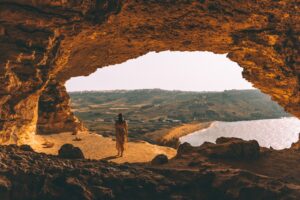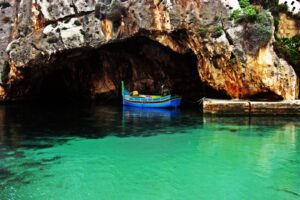 Get bus to Ċirkewwa to board the GOZO ferry.  You pay only when coming back (eur 4.65) (car hire and driver euro 15). Best to visit Gozo is by car hire or Hop on Hop off Bus (euro 20 per person or ask us for tickets @euro 18).  Public bus is not good!
Things to do in Gozo:
Swim:  Ramla Bay
Sightseeing: Ggantija Temples built 5,600 years ago with some stones over weighing +50 tons (UNESCO World Heritage site)
Swim and Eat:  Marsalforn  (walk to Qbajjar Bay and Salt Pans in Zebbug (not in Summer))
Visit:   Cittadella (old fortified city )( in Summer do at night or early morning)
Sightseeing: Ta` Pinu Basilica (church)
Swim – sightseeing – boat trip.  Dwejra:    See the Inland Sea , Blue hole and Cart Ruts. (do the boat trip!)
Swim and Eat:   Xlendi (on the left of the bay walk to the tower) (on the right of the bay walk up the stairs then down to the cave)
By Car hire only – Mgarr Ix-Xini bay,  Sanap Cliffs (Sunset),Ta' Gordan Lighthouse, Hondoq ir-Rummien Bay
🌞 Day 2 Comino Island – Blue Lagoon – Coral Lagoon – Caves (mainly in Summer)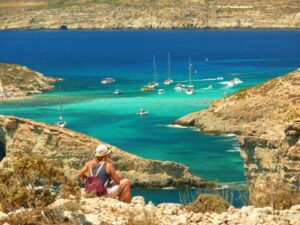 Book one of these boat trips through us at a discount!  Sea Bird, Sea Adventure (euro 25 22 or Sea Odyssey (euro 25 22)
Departure at Bugibba Jetty. ( Early booking is recommended.  Send us Whats app 00356 99062977 for times/weather/availability)
🌞 Day 3. Central Island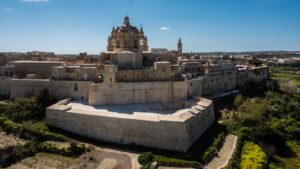 Mosta Dome (Rotunda), Mdina & Rabat. (Dingli cliffs in Winter if by bus, if by car hire all year)
🌞 Day 4 Grand Harbour area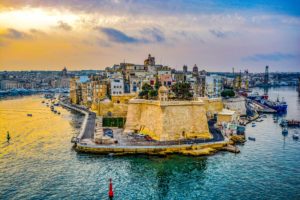 Valletta and important to visit the St John's co-Cathedral & other museums open in the morning. Then take ferry to The 3 Cities – Vittoriosa, Senglea and Cospicua.
🌞 Day 5 South East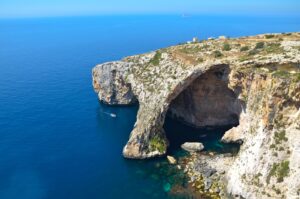 Blue Grotto (Visit in the morning due to Sun position. Go by taxi (Bolt = Uber) then take boat tour), then walk to Temples of Mnajdra & Hagar Qim, then by bus go to Swim at Ghar Lapsi.  Take bus or Bolt back to apartment.
🌞 Day 6 South east

Visit Marsaxlokk Bay (best old traditional fishing village) on a Sunday morning (Go by Bolt = Uber or go early by public bus to Valletta then take bus to Marsaxlokk) or any day in the evening by car hire. Sunday = Big Market (also fish market) Best place for Fish restaurants.
Later by bus Visit Ghar Dalam cave in Birzebbugia   (you can add a Quick swim at Pretty bay to cool off)
🌞🌞Best Beaches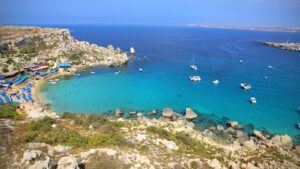 Sandy Beaches by bus : Paradise Bay, Golden Bay, Ghajn Tuffieha, Mellieha Bay (Ghadira in Maltese)
Sandy beaches By Car: Gnejna Bay, Imgiebah, Armier Bay, Little Armier Bay.
Rocky Beaches:  Any where but mostly by car! But some nice ones are:  Ahrax Mellieha (Wall Stone Beach),  Gnejna Bay (sides of the bay), Anchor Bay (also Popeye`s Village), Coral Lagoon, St Peter`s Pool & Ghar Lapsi
🌞🌞 Night attractions
Romantic lit cities:  Mdina, Valletta, 3 cities, & in Gozo:  Cittadella (Gozo),
Walks at night: Sliema/St Julian`s, Bugibba / St PaulsBay, Marsalforn (Gozo)
🌞🌞Countryside walks (not in Summer)
All North of Malta, Gozo and Comino:  google for Malta country side walks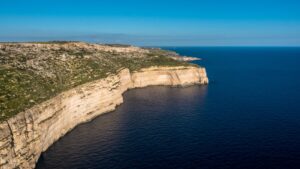 We can help you with English Language courses, Boat Hire (self-drive or skippered), Water sports like Jet Ski & Parakiting Diving courses/trips & Guided Kayak tours.  Just Email us (info@GetawaysMalta.com or What`s app us 00356 99062977 or Messenger (Neville Galea GetawaysMalta) or contacting us trough our website.  www.getawaysmalta.com
Please check opening times etc when planning your day.  Google maps will help you locate all attractions and give up to date transport options.