Seashells penthouse apartment in Bugibba
Holiday apartments in Bugibba, metres away from the seafront!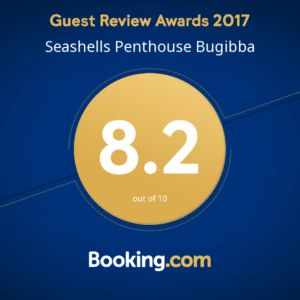 Holiday accomodation in Bugibba…
Bugibba is located in the North East part of Malta; it is one of Malta's largest seaside villages with a numerous hotels, restaurants, clubs and pubs. Bugibba has a seaside promenade stretching from Salina Bay to St Paul's Bay, very popular amongst thetourists and locals alike. The promenade offers beautiful views of the open sea and St. Paul's Island. The coastline is a bit rocky, but these are flat rocks, providing a good place for sunbathing and swimming. Bugibba's many playgrounds and wide variety of entertainment options makes it popular with families. The city's lively nightlife readily entertains adults with cinemas, bingo halls, karaoke bars and even a casino.
Bugibba has been developed into a seaside resort with many hotels and holiday apartments along the coastline.
Holiday penthouse with terrace in Bugibba:
SeaShells no 12 – Sea-view self catering holiday Penthouse with BBQ terrace – Bugibba, St Paul`s Bay
this brand new seaview penthouse located in Bugibba just off the seafront and the lovely promenade.  The penthouse has a large outside terrace with bbq and spectacular seaviews.
In the area there are several shops, restaurants, bus stops, supermarkets, etc.  the apartment is fully equipped including washing machine, fridge, freezer, microwave, pots, pans ,etc etc.