Tripadvisor Travelers' Choice Awards 2020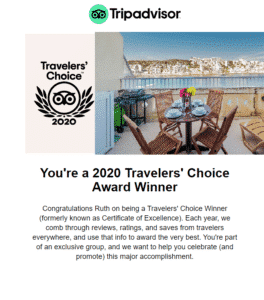 Once again we are so proud to have been voted to be in the top best holiday accommodation around the world by real guests that have experienced a stay here with us! Getawaysmalta Holiday Apartments has been honoured with the TripAdvisor Traveler's Choice Awards 2020 on 18 of our Holiday Rentals.
On behalf of the entire team here at Getawaysmalta we would like to thank everyone for their kind words and also their constructive feedback that assists us to grow and further improve. We are glad that you have enjoyed our services and hope to meet you all soon again.
Visit our website www.getawaysmalta.com now for special rates and use Promo Code: "DIRECT" to enjoy a 10% discount.