Fleur Holiday Apts – Sunny self-catering holiday 3 bedroom apartments – Sliema 45 Fleur, Amery Street, Sliema
Property Description
Fleur – Sunny self catering holiday 3 bedroom apartment – Sliema
This nice and spacious apartment is located literally just off the seafront and promenade of Sliema (only 30 metres away) . It is a bright and airy 3 bedroom apartment having also 2 bathrooms. It is also located just 10 min on foot away from St Julian's.
Fleur – Sunny self catering holiday 3 bedroom apartment – Sliema:  is ideal for a big family or group of friends as it can accommodate up to 2-12 persons.  Apartments are fully air-conditioned(hot and cold).
Apartment Specifications:
Internal area is about 110 sqm, 2nd floor with lift, 3 open balconies, 1 French balcony, Entrance has no steps and promenade is on the same level of the entrance, 3 bedrooms, Bathroom, shower room en-suite and WC, extra beds possible in the main bedroom and sitting room. Sleeps 2 to 12 persons.
Facilities:
Fast and unlimited WiFi internet, digital TV (few English and Italian channels available – up-gradable),
Well equipped kitchen including Electric oven, microwave, toaster, Percolator, 4 hobs, fridge freezer, etc.
Hair Dryer, iron and ironing board and Washing machine.
Fully Air-Conditioning (hot and cold) and also Fans are provided in each room.
Towels and bed sheets are provided.
Water and Electricity is included in the price with a sufficient weekly limit for your stay.
0.5m2 of water/person/week
200 kWh electricity/per week
We will meet you on your arrival and if you like we can give you tips of what and when to see, so you make the most out of your holiday.
We would also give you our contact numbers.
Fleur – Sunny self catering holiday 3 bedroom apartment – Sliema are rented out on Self-Catering Basis. There is no reception, however, our representatives will meet you on your arrival any time and day.  We are available all day by Whats app, Email, and Facebook.  We also have a 24/7 emergency number.
View the exact location and reviews on Google Maps.
Please have a look at the Reviews:
On Airbnb and TripAdvisor  
   we have a 4.5 star out of 5 rating
On HomeAway
 we have a 5 star out of 5 rating
All Holiday accommodation should have a license issued by the Malta Tourism authority to ensure standards are met and kept.  This license number should be on the advert.  The license number for this property is HPI 9698. We operate and own only licensed property.
Please see amenity list to get a full list of apartments specifications and equipment for Fleur – Sunny self catering holiday 3 bedroom apartment – Sliema.
We look forward to having you as our guests at Fleur – Sunny self catering holiday 3 bedroom apartment – Sliema
FILL UP THE CONTACT FORM BELOW TO BOOK DIRECT WITH US, THE OWNERS AND AVOID AGENTS` COMMISSIONS
OR Email us on: [email protected]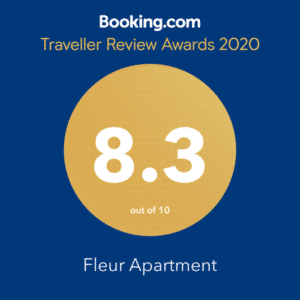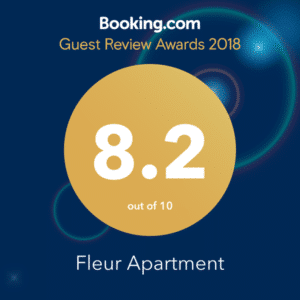 Property Features
IPTV (Internet TV - many languages)
WiFi
Balcony
Side Sea view
High Chair - on order
Travel Cot - on order
Iron & Iron board
Clothes horse
Private Washing machine
Fans
Air-conditioning
Hairdryer
Towels - minimum 2 per person
Lift/Elevator
Heaters gas/electric
No Smoking allowed in apartment
No Pets
Free On Street Parking - Difficult
Lively area
Nightlife (disco) within walking distance
Restaurants and Bars within walking distance
Nightlife (disco) within walking distance - In Summer every Friday
Coffee Funnel YES, Coffee Machine NO
Fridge/Freezer
Microwave
Pots Pans, dishes and cutlery
Soap, toilet paper, shampoo & kitchen soap - Start up Provided
Shops selling detergents closeby
Departure point for Day Cruises within walking distance
Find this property on map
Enquire about this property