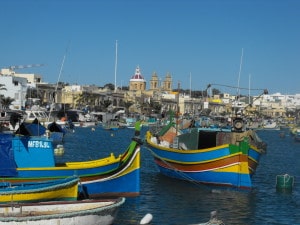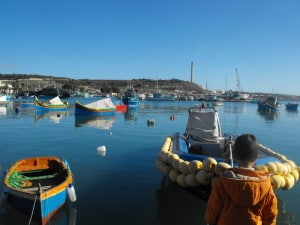 Marsaxlokk village is located in the south-eastern part of Malta which is famous for its big Sunday fish market and its many decorative "eyed"  painted boats called Luzzus. The  village has around 3200 inhabitants and in the past, most of the inhabitants worked as fishermen. The name Marsaxlokk comes from the word "marsa" which means port and the word "xlokk" which means south in Maltese.
Marsaxlokk has an old history dating back to the ninth century BC. It was in this bay that the first Phoenicians arriving in Malta landed and set up their businesses. It was here that the Turkish fleet anchored during the Great Siege in Malta.  Marsaxlokk's hill of Tas-Silg was used as a religious site and still contains remains of megalithic temples of the Tarxien phase. There were also Bronze Age tools found on the hill.
Even though Marsaxlokk is a charming village with its traditional, brightly painted Luzzus, tasty fish restaurants and its green water, tourists at times don't visit the town due to its shipyards and power station. Malta's main power station is located here and Oiltanking Malta Ltd. also operates from Marsaxlokk. The Malta Freeport in Marsaxlokk terminal has developed over the years and is now one of the largest container terminals in the Mediterranean.
Marsaxlokk has a small sandy beach on the east side, and stunning St. Peter's Pool at Delimara is 20 min away by foot. St. Paul's bay is excellent for diving, snorkelling and cliff jumping down into the natural pool. The smooth, weathered limestone ledges make good sunbathing spots at St. Peters Pool. Don't miss the saltpans that can be seen at this location either.